Upcoming Performances
The Voice of Liberty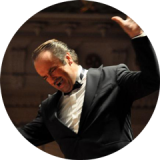 Libertas Male Choir

Welcome to Libertas Male Choir
The Libertas Male Choir and our director Martin Mans are pleased to announce our concert schedule.
THE LIBERATION CONCERT FROM THE "STUDIO" OF JANSKERK IN MIJDRECHT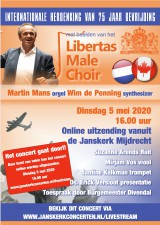 THE LIBERATION CONCERT FROM THE "STUDIO" OF JANSKERK IN MIJDRECHT
WILL TAKE PLACE ON MAY 5, 2020 AT 16.00 PM IN MIJDRECHT NL; CANADIAN TIME 10 AM.
The concert in the Janskerk in Mijdrecht on May 5th, 2020 promised to be one of the high lights during our Rondeveense liberation festivities.
Due to the COVID-19 the Canadians were not able to travel to the Netherlands and no concerts were anymore allowed in our country.
The organizers of Mijdrecht however were not about to give up and found a great solution to arrange a YOUTUBE LIBERATION CONCERT on May 5, 2020 at 16.00 pm NL time, and 10 AM Canadian Time.
The following musicians are working together at this LIVE program:
Martin Mans, at the beautiful Batzorgan
Wim de Penning, synthesizer - Mirjam Vos, viloin
Suzanne Arends, flute. - Jantine Kalkman, trumpet
Videos, Music and Memories will be shown of the Liberation Choir of Canada.
You can find the YOUTUBE link :
www.janskerkconcerten.nl/livestream
Another possibility is by clicking on the 'right corner on the Home screen' of: www.pgmijdrecht.nl You will then be able to find the Youtube channel.
Dear members of Libertas, it is our hope that you will enjoy singing along with this program in your homes.
With many thanks to Mr. Dick Boogaart and Martin Mans, and all other musicians, who are making this Liberation Concert possible.
THANK YOU! ENJOY.
Netherlands, here we come – tour preparations
April 15 - Holland Christian Homes @ 7:00 PM CANCELLED
April 16 - Rehoboth United Reformed Church, Ancaster 7:30 PM CANCELLED
***Both accompanied by: Ryan VanderBerg - organ and Naomi Van Manen - piano***
NETHERLANDS-TOUR CANCELLED
Netherlands-tour celebrating 75th year of liberation, Groot Mannenkoor Nederland and Libertas in the most beautiful churches in The Netherlands
Flight day Thursday April 29, 2020
Concerts May 1, 2, 4, 5, 8 and 9
Sunday May 10, Maassluis church service
Return flight May 11,2020
UMF Canada and Libertas in Canada
CANADA-TOUR CANCELLED
June 16 - 21, 2020 - Libertas and Urker Mans Formatie all concerts 7:30 PM
June 16 - evening concert Owen Sound Canadian Reformed Church - UMF & Libertas
June 17 - ***UMF ONLY*** Concert at St. Andrews Presbyterian Church, Barrie
June 18 - Knox Presbyterian Church, Elora - UMF & Libertas
June 19 - St. Pauls United Church, Dundas - UMF & Libertas
June 20 - all day CD recording with UMF & Libertas
June 20 - evening concert - Knox Presbyterian Church, Stratford
June 21 - Evening song service at Fellowship Christian Reformed Church, Brighton - ***UMF only*** time TBA
Christmas concerts with Martin Zonnenberg, Pieter Baarssen en Willem de Ridder
Rehearsal Tuesday Dec 1, 2020
Concerts Wednesday December 2, 3, 4 and 5, 2020.
Our goal is to celebrate in music, the freedom that we experience through our salvation in Christ, and freedom through the sacrifices of those who gave their health and lives to improve the lives of others.

Tjitske Van Reenen Tammy Veld
(membership and general info)
905.522.0001 905.745.5609
tjitske@rogers.com rtveld96@gmail.com

Please visit our rehearsal and ticket tabs for more information